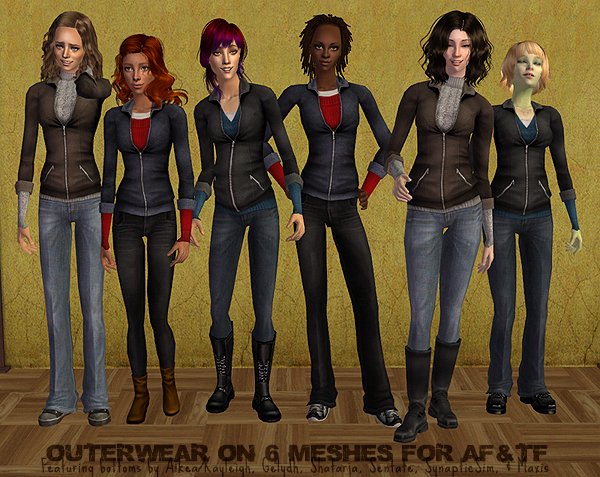 Teen and adult outerwear on six meshes made for Ghanima, Christmas 2010 at Garden of Shadows, featuring the top from a base game teen outfit. Pants and shoe options are: Kayleigh's bootcut jeans and chucks, Aikea's original bootcut jeans, Gelydh's bootcuts and sneakers, tucked Sentate ankle boots, tucked Shatarja boots, and tucked SynpaticSim boots. Each mesh has three recolors and appropriate morphs with correct shoe sounds. I believe they are categorized for both everyday and outerwear, but I can't say for certain.
---

Updated 05.01.13
Meshes have been renamed to be more easily identified. Please locate and delete the following files:
MESH_uys-yui_affb_jacketbootcutboots.package
MESH_uys-yui_affb_jacketbootcutchucks.package
MESH_uys-yui_affb_jacketbootcuttennisshoes.package
MESH_uys-yui_affb_jacketnudesentateankleboots.package
MESH_uys-yui_affb_jacketnudeshatarjaboots.package
MESH_uys-yui_affb_jacketnudesynapticboots.package
MESH_uys-yui_tffb_jacketbootcutchucks.package
MESH_uys-yui_tffb_jacketbootcuttennisshoes.package
MESH_uys-yui_tffb_jacketnudesentateankleboots.package
MESH_uys-yui_tffb_jacketnudeshatarjaboots.package
MESH_uys-yui_tffb_jacketnudesynapticboots.package
MESH_uys-yui_tffb_jacketbootcutboots.package
---
DOWNLOAD ALL

Seasons is required!

Meshes by Yuichen are required!
[ Get teen mesh | Get adult mesh ]
File size: 25.7 MB
Credits & Thanks
– Jeans textures by Maxis.
– Top mesh by Maxis, edited by me.
– Bootcut bottoms with boots by Aikea.
– Bootcut bottoms with chucks by Kayleigh.
– Bootcut bottoms with tennis shoes by Gelydh.
– Nude bottom by Gelydh.
– Ankle boots by Sentate.
– Shatarja boots by -herp derp- Shatarja.
– Other tall boots by SynapticSim.