An adult female sim with four new pieces of custom content made for Garden of Shadows Advent 2012.
---

This download no longer uses sims2packs. See our FAQ page for more information.
---
Read below for a better look at the content and any information you may need to know. Be warned, it's crazy long! Images are clickable for larger preview.
Outfit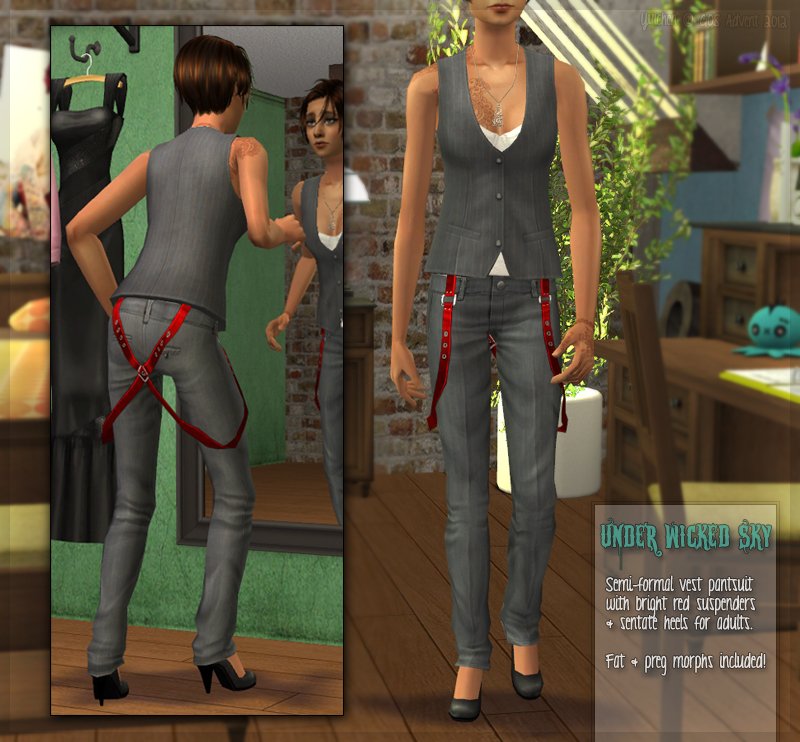 Semi-formal vest pant suit with suspenders and heels based on an outfit worn by Evan Rachel Wood. Mesh has all morphs and correct shoe sounds. There is minor clipping around the hips during some animations but I've reduced it as much as I could.
Vest mesh by Amaryll. Pants mesh by Kayleigh while the textures are by Misomoso. Shoes by Sentate. Suspenders mesh and original texture by Aikea_Guinea. White undershirt uses partial alpha and guide by Xandher.
The outfit is now available for teens by Trapping.
---
Hair Recolor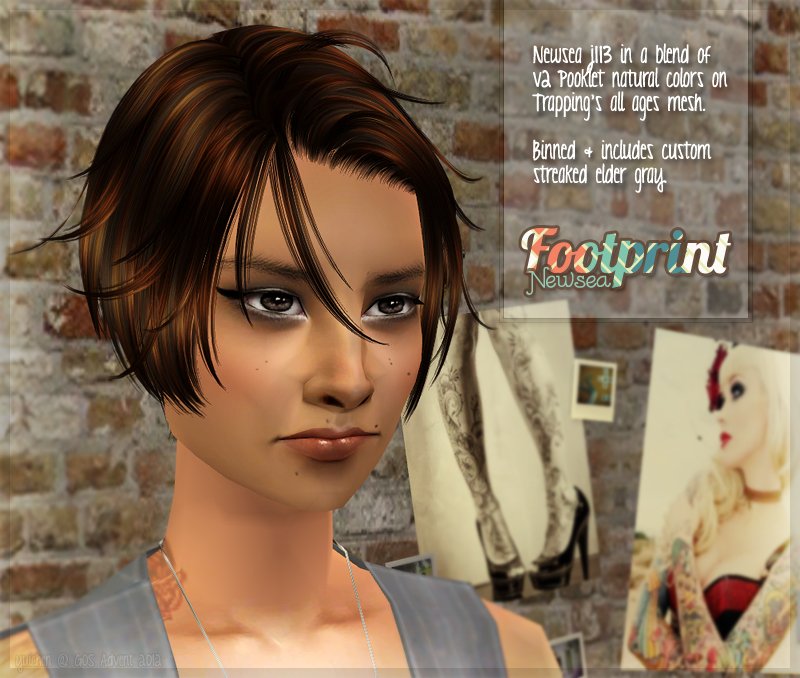 Newsea Footprint hair in a blend of various Pooklet natural colors. I honestly can't remember what they are now but it makes for some interesting streaking nonetheless.
Available for all ages using Trapping's edited mesh. It is binned and has a streaked gray color for elders.
---
Skintone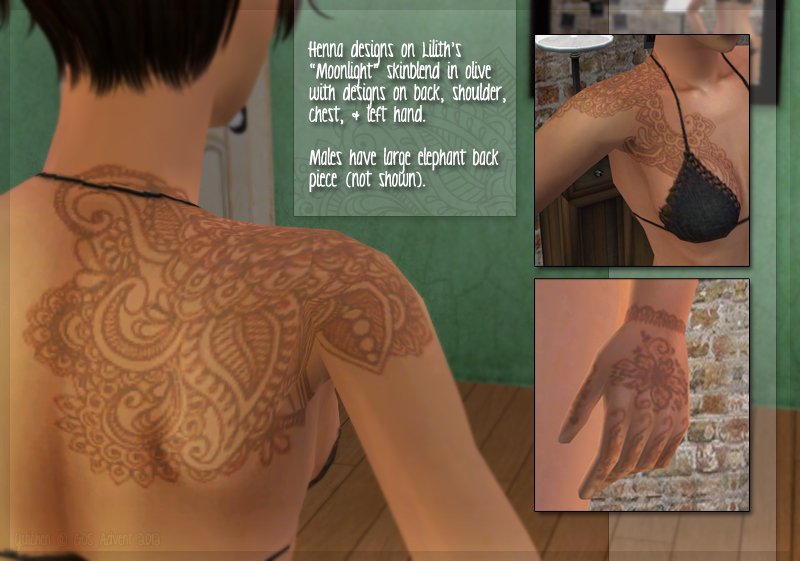 Aida wears a pretty skintone with Henna on Lilith's Moonlight in olive. Females have designs on the left hand, chest, over the shoulder and onto the back. Males have a large elephant back piece which I stupidly forgot to get a picture of. All faces had minor editing and elders were given wrinkles by Simple Life.
As it is a darker skintone there is some pixelation that couldn't be avoided even when using the special import method. As far as I could tell it is no worse than the original.
---
Accessory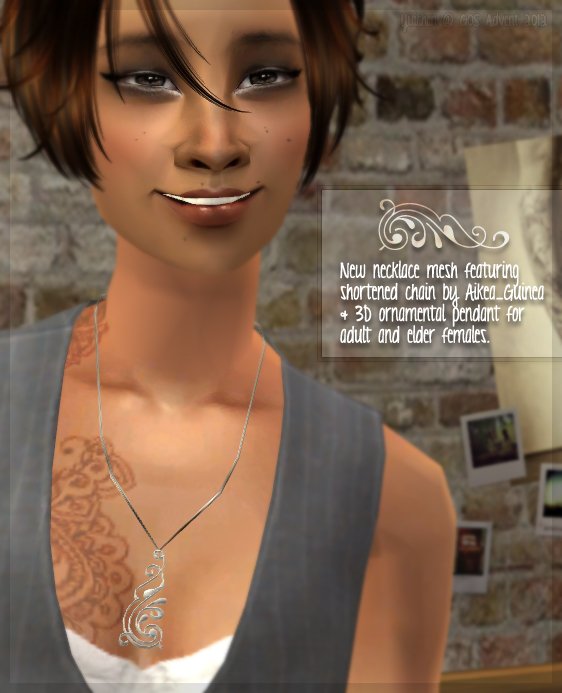 The last piece of content for Aida is a new necklace mesh with a 3D ornamental pendant made from a font by Paulo W. The chain is a shortened version of Aikea_Guinea's long alpha necklace.
*Please note I went back and darkened the pendant texture after taking this screenshot.
DOWNLOAD

Meshes by Yuichen are required!
[ Get accessory mesh | Get body mesh ]
Hair mesh by Trapping included
File size: 13.5 MB

Credits & Thanks
– Vest mesh by Amaryll.
– Pants mesh by Kayleigh.
– Pants textures by Misomoso.
– Shoes by Sentate.
– Necklace chain, suspenders and textures by Aikea.
– Undershirt alpha by Xandher.
– Hair mesh by Newsea, added ages by Trapping.
– Skintone base and lips by Lilith.
– Wrinkles by Simple Life.
– Eyebrows by Io.
– Eyes and liner by Nabila.
– Shadow by Jessi.
– Nose kit masks by Rensim.
– Layerable eyeliner blush by CuriousB.
– Lip corners by Lunar Eclipse.