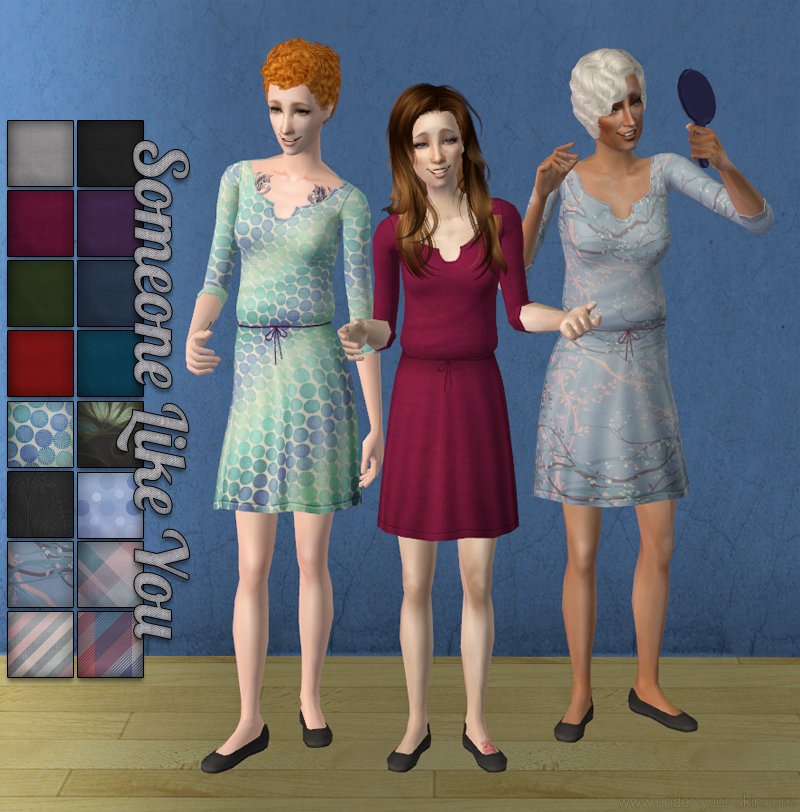 The first gift celebrating 9 years of Under-Your-Skin consists of a comfortable loose dress with flats for your teens to elders, in eight solid colors and eight patterns. The meshes feature Amaryll's Sophie top with Trapping's skirt with boots for Jessy, and of course Amaryll's flats. Includes fat morphs for teen and elders, as well as maternity morph for adults. Files have been compressorized.
---

Updated 04.14.13
Meshes have been renamed to be more easily identified. Please locate and delete the following files:
MESH_uys_affb_loosetiedress-flats.package
MESH_uys_effb_loosetiedress-flats.package
MESH_uys_tffb_loosetiedress-flats.package
---
DOWNLOAD

Teen and elder files are slaved to adults to save space.

Meshes by Yuichen are required!
[ Get teen mesh | Get adult mesh | Get elder mesh ]
File size: 6.46 MB
Credits & Thanks
– Skirt mesh by Trapping.
– Top and shoes meshes, shoe textures and top shading by Amaryll.
– Patterns by Colourlovers.
– Bow mesh and texture by Maxis.