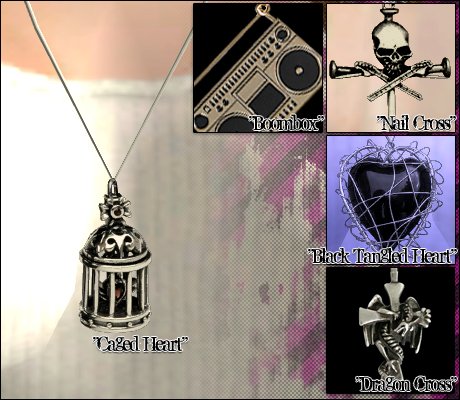 Five assorted pendants on long cords for females on a mesh by Aikea_Guinea. Reposted from 2007.
---

Updated 01.05.12
File names have been improved and were combined into one archive. If this is the first time you're downloading this set, completely ignore this portion of the post. If you're a returning visitor and would like to tidy things up, locate and delete the following:
b86889b6_uysfdragoncross.package
60dff1a1_uysfboombox.package
uysafblacktangledheart.package
uysaflongchordcagedheart.package
uysafnailskullcross.package
---
DOWNLOAD

Mesh by Aikea_Guinea is included!
File size: 202 KB
Credits & Thanks
– Mesh by Aikea_Guinea.