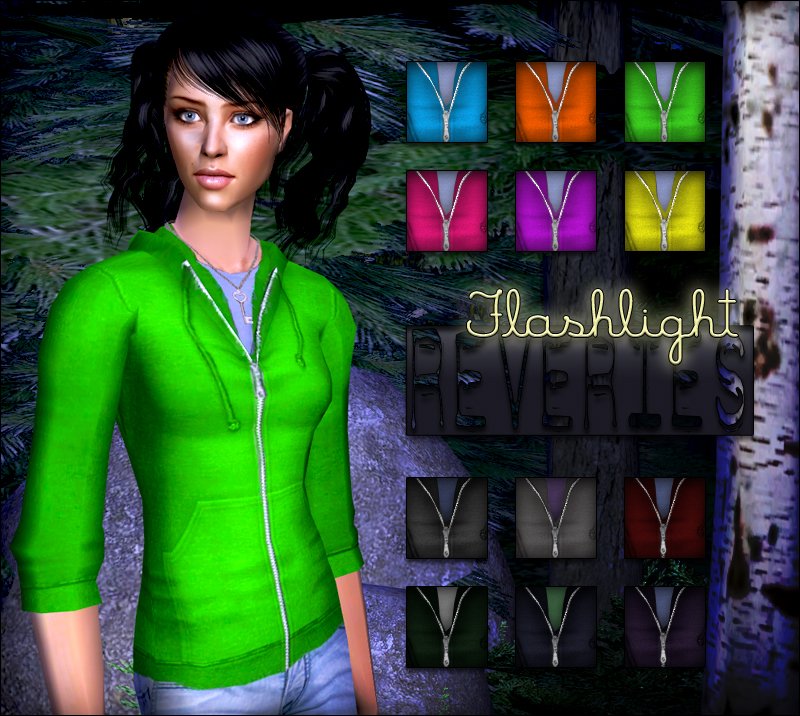 Circuits in the Sea converted to Kayleigh's edit of Aikea's Rat Bastard hoodie in twelve colors.
---

Updated 04.11.13
The mesh has been updated with a preg morph and renamed to be more easily identified. Get the new mesh here, and please locate and delete the following file:
MESH_kayleigh_aft_aikeahoodie-noalpha.package
---
Flashlight Reveries is now available for use as athletic with any appropriately categorized bottoms. Please see our FAQ page for instructions on how to use them.
---
DOWNLOAD EVERYDAY
DOWNLOAD GYM & EVERYDAY


Mesh by Kayleigh is required!
File size: 3.6 MB
NEW! Available as default replacements!
Mesh Information
"Rat Bastard" adult female hoodie mesh, minus alpha parts and merged together. Fat morph included. Feel free to recolor, but give credit to both Kayleigh and Aikea if you plan to upload it anywhere.
Credits & Thanks
– The hoodie (a frankensteined t-shirt texture), t-shirt, and original "Rat Bastard" mesh by Aikea_Guinea
– Namesake: Toxicity – System of a Down.