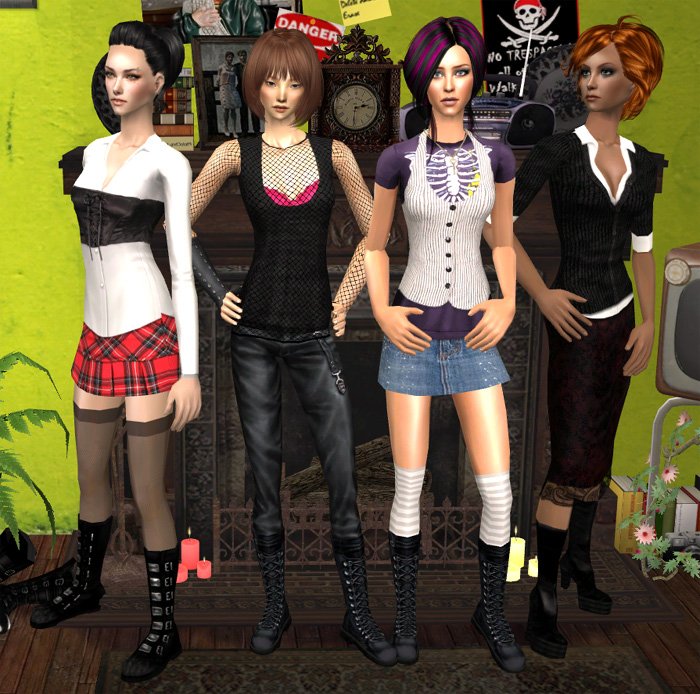 Tartan mini and white shirt with a small corset, leather pants and a dark top with mesh overlay, denim mini and tee with a striped vest, and a silk and lace skirt with a sweater and heeled boots.
---

Updated 04.13.13
File names have been improved and were combined into one archive. If this is the first time you're downloading this set, completely ignore this portion of the post. If you're a returning visitor and would like to tidy things up, locate and delete the following:
5fc285e4_uysfacorsetskirt.package
5f218984_uysfajskirtboots.package
5fd4081f_uysfastagetest.package
5fe3a6ba_uysfuneralsloane.package
---
DOWNLOAD
Meshes by Shatarja and Marvine are included!

Combat boots mesh by Yuichen is required!
File size: 2.69 MB
Credits & Thanks
– Base top texture on "Fishnet & Leather" by fanseelamb.
– Original boot texture on Sloane's funeral attire by Marvine.
– Original combat boot (or "nekkid boot") mesh by Gelydh.
– Mini dress and combats mesh by Shatarja.
– Alpha dress mesh by Marvine.
– Asian model female version of Mouseyblue's Jiro.
– Black haired model is an edit of ZombieJill's Jill.